May 26, 2016
5/26/16
In Arabic, the word rawiya means "she who tells a story." Each artist in in NMWA's summer exhibition She Who Tells a Story: Women Photographers from Iran and the Arab World offers a vision of the world she has witnessed.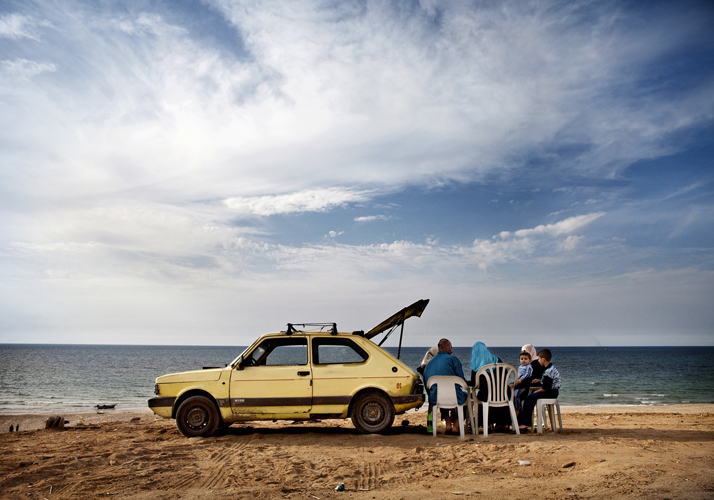 Tanya Habjouqa
(b. 1975, Amman, Jordan; lives East Jerusalem)
Tanya Habjouqa began her early career in Texas photographing migrant communities. Since moving back to the Middle East, she became one of the founding members of the Rawiya photography collective and continues to document everyday life and social issues. Her photographs follow the struggle of the region's residents as they attempt to live under oppressive conditions.
In Her Own Words
"This coastal community has absorbed over 60 years of suffering, and still, in the face of adversity, maintains an enduring, but necessary, talent for survival, and humor. Life continues and so do the traditions and self-respect, a resistance to letting suffering be the standard definition."—Tanya Habjouqa
"The more overt, obvious visuals are most often captured with endless local and ex-pat journalists. In some ways, those images have lost their meaning. They are so ubiquitous. There is never enough political context and the gruesome and overt signs of violence can be easy [for photographers to focus on]….What is harder is telling the human story here, which is why I often choose to find the everyday in conflict. Because this conflict is there every day. How they continue to strive and live in normalcy and even laugh."—Tanya Habjouqa, audio recording for She Who Tells a Story
What's On View?
Six photographs from Habjouqa's "Women of Gaza" series are on view in She Who Tells a Story. Taken throughout Gaza over two months in 2009, Habjouqa's photographs are not images typically associated with siege and conflict. Instead, Habjouqa captures moments of levity in everyday life.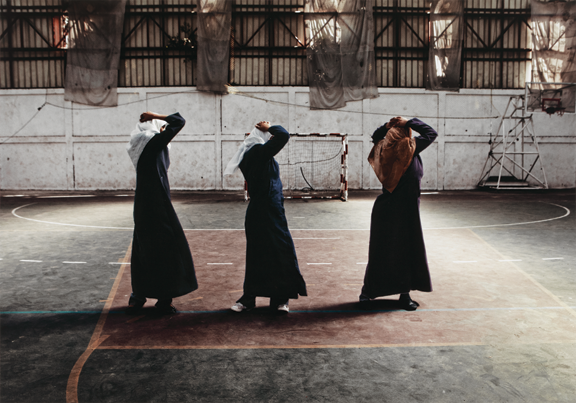 One photograph depicts Gazan women in an aerobics class. The artist says, "These women agreed to be photographed with the caveat that I explained why they are wearing jilbaab, or the long coats, as they work out. They didn't want to be mocked by the West for wearing such things as they work out. They wanted me to explain that they had very little space to work out or even just to be in public. The decimation of large parts of their neighborhood further limits that. Here they are working out in a public high school gym."
Like all residents of the occupied territory of Gaza, women enjoy limited freedom. Habjouqa says, "By focusing on women, I gained access to all sectors of society, men and children too, and it was quite often the women who were struggling to maintain a sense of normalcy in their destructed lives and households." Connecting intimately with her subjects, Habjouqa gently portrays the bright side of their not-always-so-bright lives.
Visit the museum and explore She Who Tells a Story, on view through July 31, 2016. Meet Tanya Habjouqa during an artist talk at the museum on July 27, 2016.