October 12, 2020
10/12/20
"I'm interested in both a reading experience and an art experience," says Julie Chen (b. 1963), a renowned book artist and associate professor at Mills College in Oakland, California. More than a dozen works from throughout Chen's 33-year career are now on view in Julie Chen: True to Life in NMWA's Betty Boyd Dettre Library and Research Center. Chen's extensive work within the field of artists' books continues to push the boundaries of what a book can be.
Inspired by Joseph Cornell's shadow boxes and William Kentridge's stop-motion animation, Chen pursued book arts at Mills College. She founded Flying Fish Press in 1987 and has published more than 40 three-dimensional works of art, some in collaboration with other artists and poets. Chen aims to produce one book a year and sometimes works seven days a week brainstorming a topic, determining design, and assembling as many as 100 copies per book.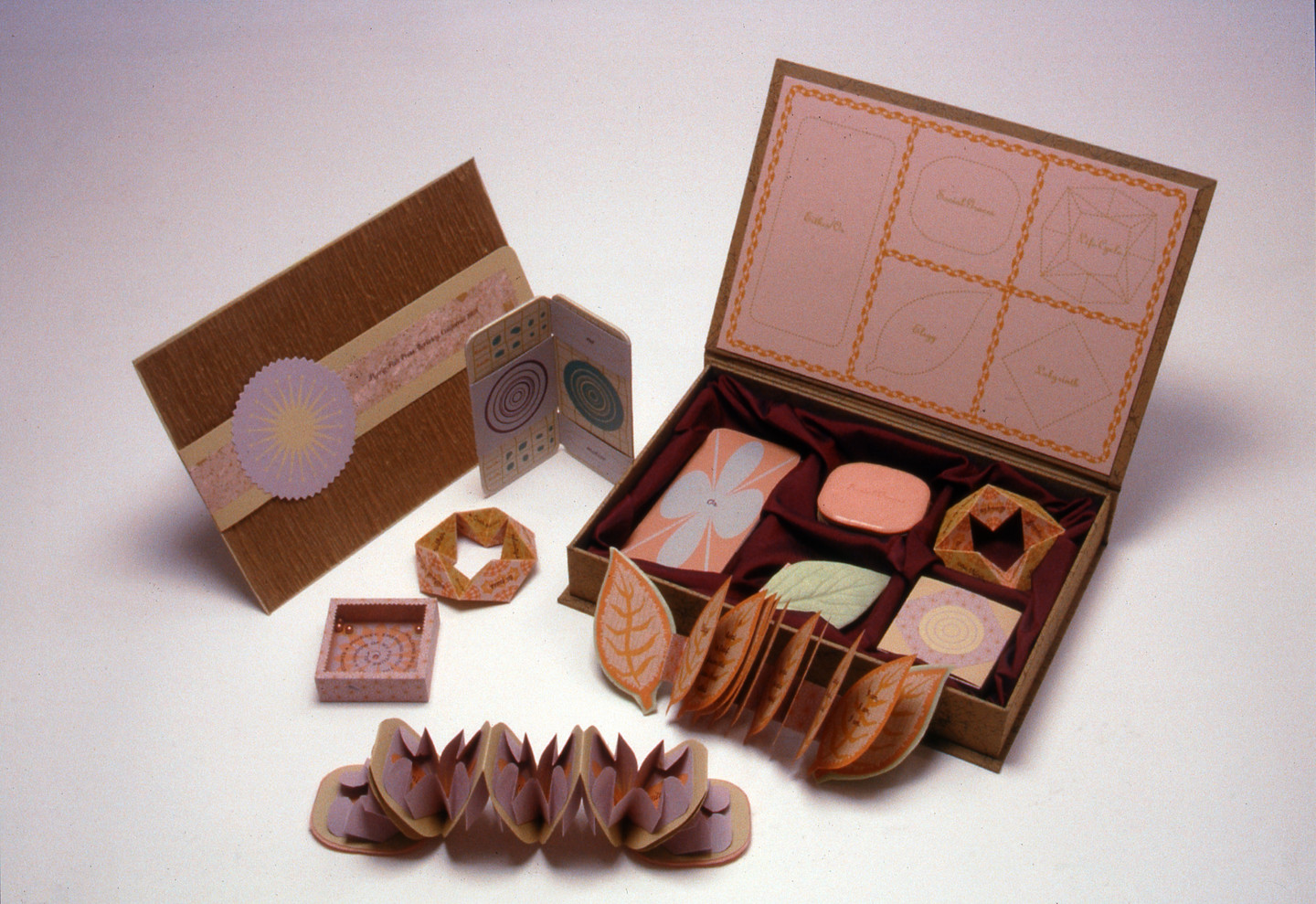 The idea that experiencing a book should be physically engaging, not simply textual, motivates Chen's work. Her books are still books, despite a lack of conventional pages, spine, and cover. Maps stand in for pages, silk fabric replaces spines, and anything from a box to a stand serves as a cover. Bon Bon Mots: A Fine Assortment of Books (1998) contains five books, each finely shaped as tiny origami desserts, nestled inside of a confectionery box. The books contain commentary on the concepts of life and time, combined to suggest a metaphor about the place the narrator hopes to fill in society.
Her most recent work, Wayfinding (2019), explores the relationship between physical and mental learning. Chen found ways to engage a reader's multiple senses, creating a three-dimensional alphabet and using handmade paper that makes a rattling sound when turned. "It took [a long time] to figure out what I was trying to say, and I had to learn all kinds of new techniques to [create] the pieces," Chen explained. "I'm very proud of that piece."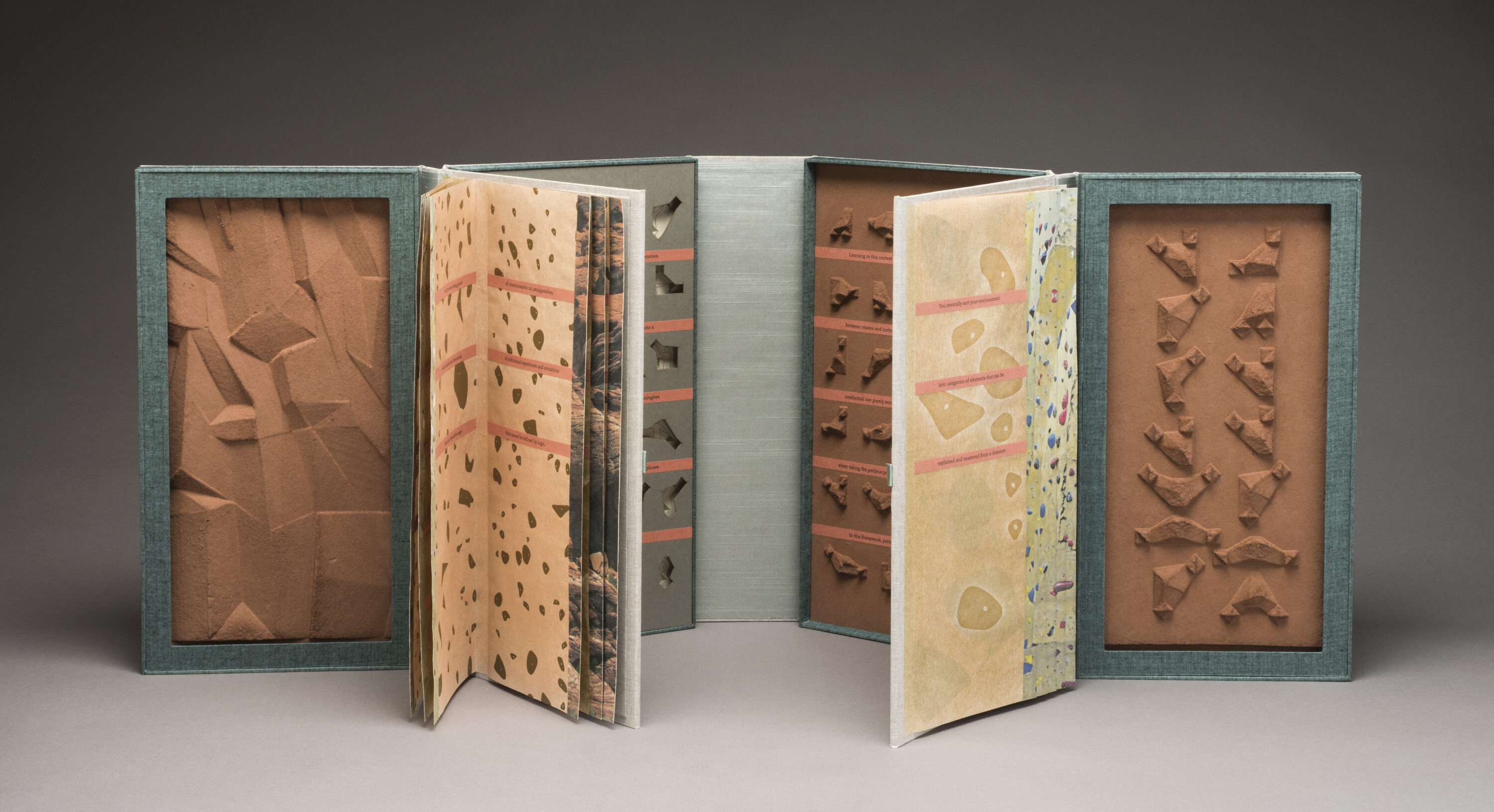 While not limiting herself to distinctive themes and maintaining that she is not a "political artist," Chen's work touches on both personal and universal topics. Chrysalis (2014) addresses grief, illustrating how the brain changes in response to trauma. The work is housed in a box and held together with magnets; it opens to reveal a book designed in the shape of a brain and text that describes the topic. Panorama (2008) explores the urgent message of climate change. Through the use of pop-ups and interactive folded messages about the state of the world, it communicates feelings of both hope and helplessness. The physical beauty of Chen's books intersects with the messages within their pages.
Chen has extensively documented her process and creations, including in the book Reading the Object: Three Decades of Books by Julie Chen (2016). Her commitment to book arts extends beyond creation and into making the complex genre understood and more widely accessible.
---
Julie Chen: True to Life is open by appointment only, Monday through Friday, 10 a.m. to 5 p.m. Please purchase your timed tickets online, then email lrc@nmwa.org to schedule your appointment.