March 28, 2022
3/28/22
Washington, D.C.-based muralist, designer, and illustrator MISS CHELOVE (a.k.a. Cita Sadeli) creates vibrant, larger-than-life works that cover the walls of businesses, alleyways, and public façades around the District and beyond. Now on view through July 31, her monumental artwork Reseeded: A Forest Floor Flow (2022) envelopes NMWA's west-facing exterior in the first installation of Lookout, a series of public artworks on the building's exterior during our renovation.
The work features a woman with traditional Javanese adornments and surrounded by botanicals native to the islands of Indonesia. Through her imagery, the artist reflects on recovery and resurgence in the natural world and the centering of women in this regrowth.
In the first segment of a three-part interview, NMWA exhibition coordinator Hannah Shambroom spoke with MISS CHELOVE about her inspiration for the motifs and themes in the artwork.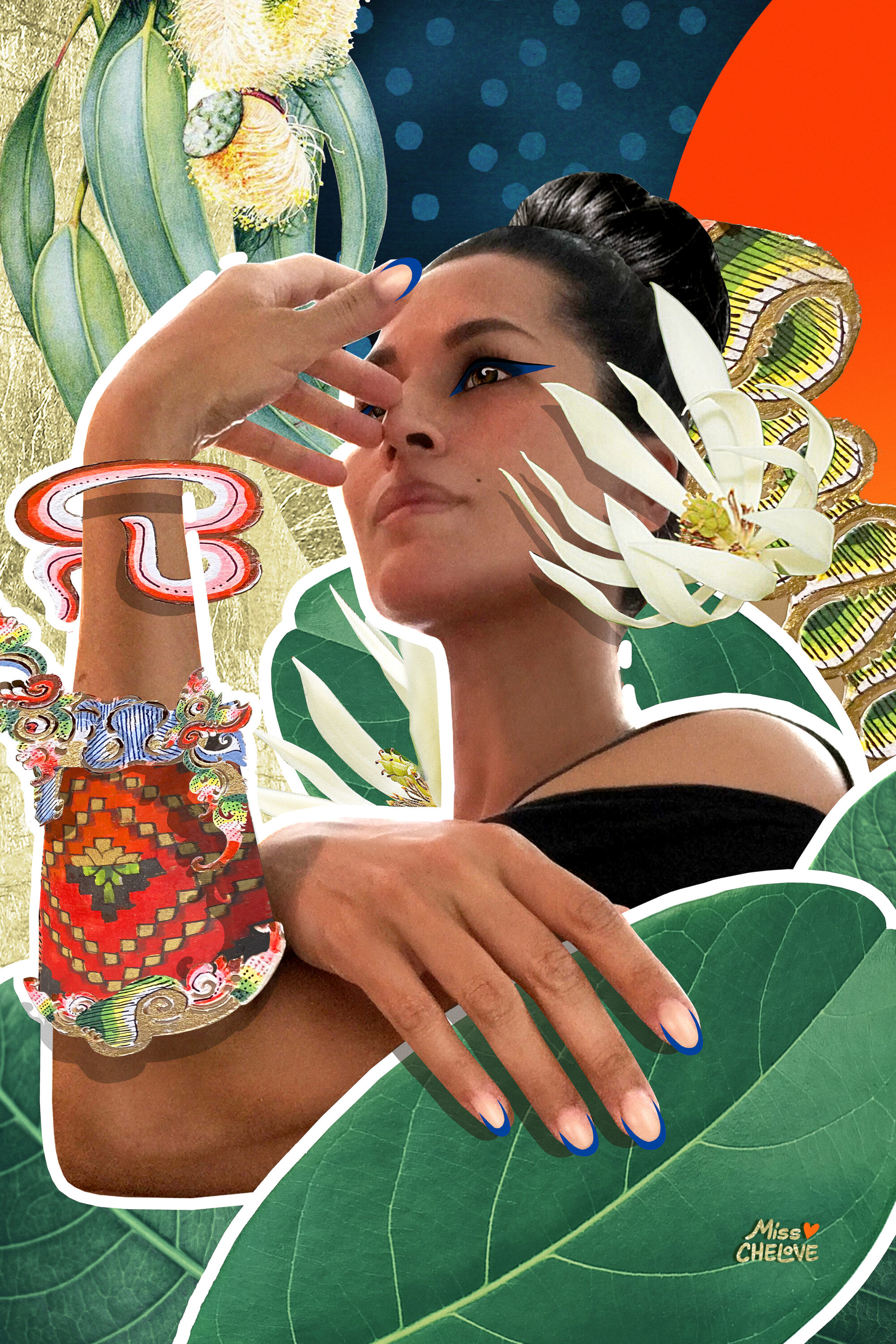 Hannah Shambroom: Could you share more about the details in Reseeded: A Forest Floor Flow?
MISS CHELOVE: The piece reflects on the period of profound rediscovery and regeneration after a crisis. The pandemic brought so much destruction—to our connection to one another, and to our sense of safety. Our mental health, and our environment, have suffered as a result.
This work also explores my experience as a child of a single parent immigrant household, away from my Javanese culture and motherland halfway around the globe. I did not visit Java until my early twenties with my mother. Once there and reunited with many extended family members, I realized just how much of my heritage and herstory was missing from my daily life. It is a common experience for third culture and first-generation American kids to feel this separation, a straddling between different cultures to which you feel you don't completely belong.
In the work, I've included traditional Javanese design motifs as adornments to the figure, wrapping around her arm and, at the extreme right, trailing behind her head. These elements are influenced by Javanese wayang kulit, flat shadow puppets made from cow hide, painstakingly carved into intricate shapes and hand-painted with fine detail.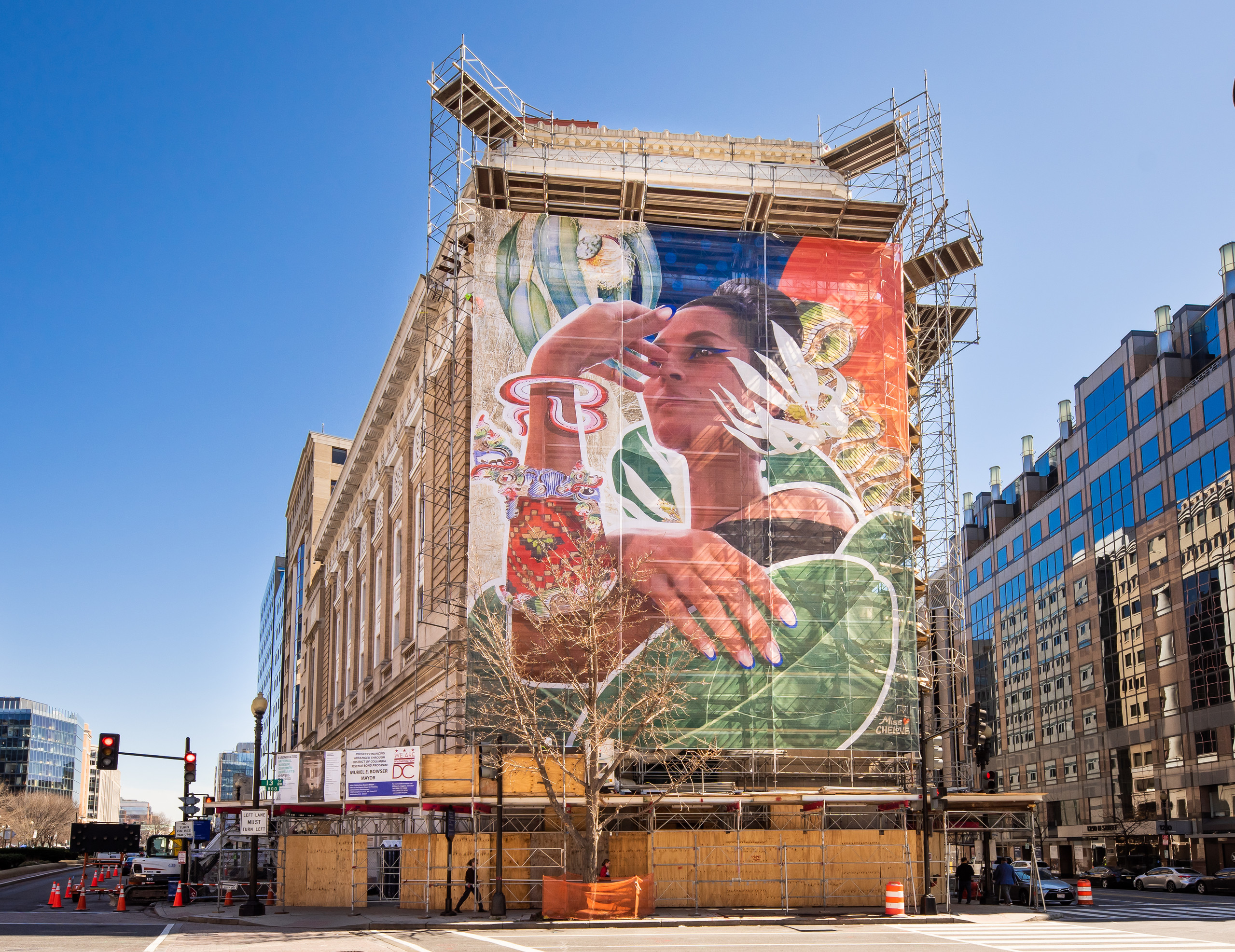 HS: Can you describe the botanical elements?
MC: Fashioned as explosively expressive earrings are a pair of Javanese magnolia flowers. Their stylized, elongated petals echo the fiercely beautiful exaggerated forms of the wayang orang (traditional Javanese dancers), with their thin arms contorting into expressive upward positions. The figure's navy blue winged eyes and manicure expand her adornments to reflect a Western influence as well.
Jackfruit leaves wrap around the figure in a blanket of cultural sustenance. The fruit is a humble staple in tropical diets around the world. At the top of the composition is a dangling sprig of eucalyptus globulus (more commonly known as southern blue gum or blue gum). This plant is native to southern Australia, but was added here as a nod to my European paternal heritage. My parents divorced when I was about one year old, and we did not grow up with my father in our lives. The eucalyptus hangs just over the figure, present but existing in separation.
---
Want to see more of MISS CHELOVE's D.C. murals? Explore NMWA's self-guided mural tour, featuring a map and accompanying images, descriptions, and artist audio stops.