May 18, 2022
5/18/22
Washington, D.C.-based muralist, designer, and illustrator MISS CHELOVE (a.k.a. Cita Sadeli) creates vibrant, larger-than-life works that cover the walls of businesses, alleyways, and public façades around the District and beyond. Now on view through July 31, her monumental artwork Reseeded: A Forest Floor Flow (2022) envelops NMWA's west-facing exterior in the first installation of Lookout, a series of public artworks on the building's exterior during our renovation.  
The work features a woman with traditional Javanese adornments and surrounded by botanicals native to the islands of Indonesia. Through her imagery, the artist reflects on recovery and resurgence in the natural world and the centering of women in this regrowth.
In the second segment of a three-part interview, NMWA exhibition coordinator Hannah Shambroom spoke with MISS CHELOVE about the foundational influences that continue to inform her work.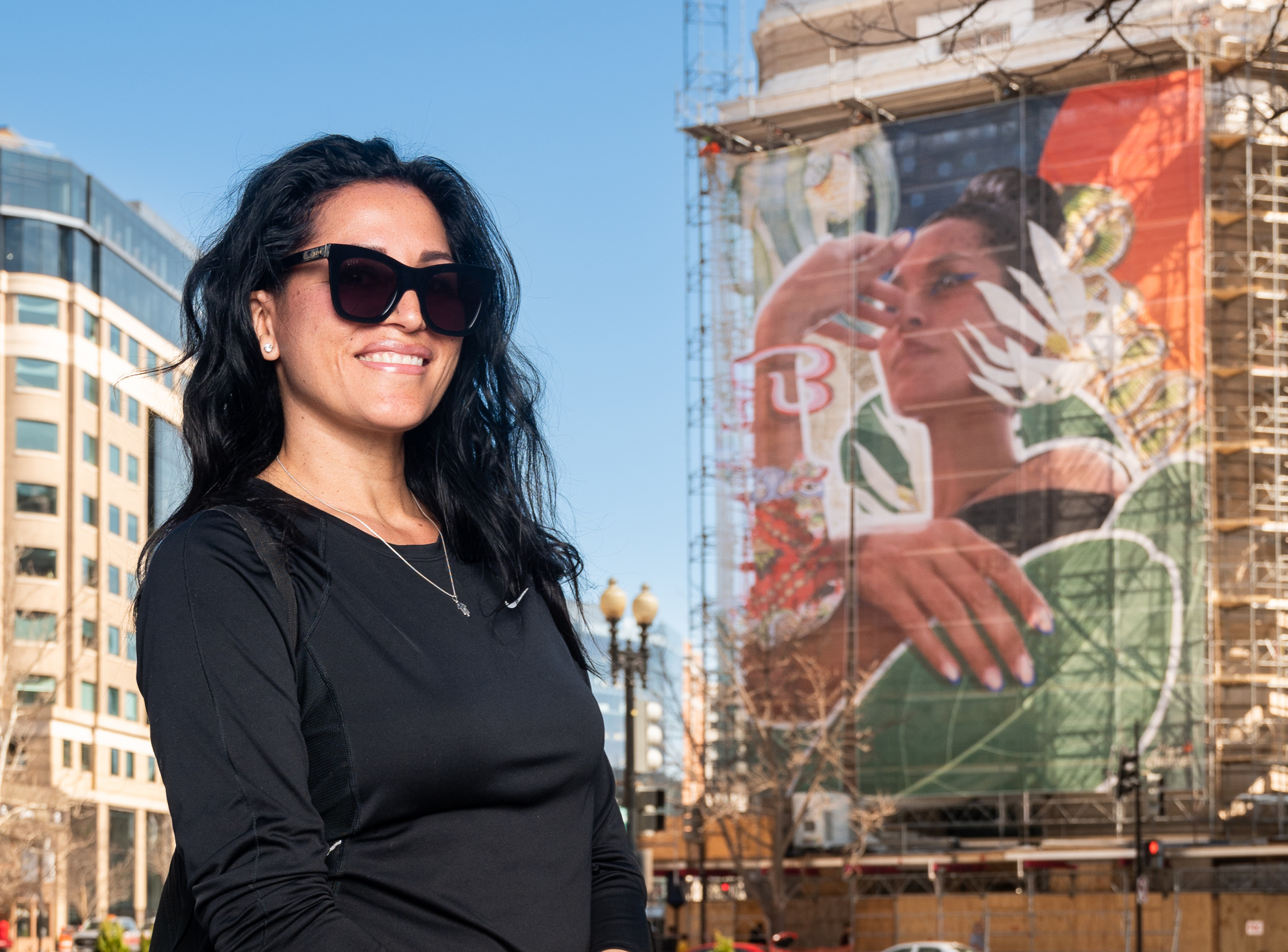 Hannah Shambroom: Growing up in the D.C. area, you were involved in the city's punk rock and graffiti scenes of the 1980s and '90s. How has this influenced your work?
MISS CHELOVE: These subcultures formed a strong foundation for me around many important factors: the "do it yourself" ethos, the unapologetic individuality and fierce personal expression, the emphasis on social justice and political activism, and championing the underdog.
Just before my preteens I began to see graffiti pieces and tags along Rhode Island Avenue as my family traveled back and forth from Hyattsville, Maryland, to the Indonesian Embassy in Dupont Circle. Graffiti's letterforms fascinated me, as did trips to Georgetown, where my siblings and I would gawk at D.C.'s early punks walking around with their studded leather jackets, mohawks, and Doc Martens boots.
For me, graffiti was the catalyst to begin painting on walls. It urged me to break the rules, find what I wanted to express, and practice working quickly in large scale. Its immediacy paired with my rebellious proclivities sparked a lifelong obsession.
HS: Many of your works feature strong women of color. Why do you feel that it's important to represent these women in your work?
MC: My mother was an incredibly strong, resilient, and exceptional human. In her early twenties, she was one of only two individuals selected from her country to receive a Fulbright Scholarship. Just after her arrival in the United States to begin her studies, she unexpectedly became pregnant with my oldest sister, abruptly halting the scholarship. Over the next seven years she gave birth to four children, only to become divorced soon after her youngest (me) was born. Out of sheer necessity, she had to persevere, resuming her full university course load when I was eight months old. She completed her graduate degree from Indiana University with kids in tow and continued to raise her children all by herself with English as a second language and no assistance from family. It was a hard life, but filled with so much joy and unity as a small family, rich in spirit.
My wish is to uplift the narratives and representation of immigrant and BIPOC women of all generations, using public art opportunities to create permanent works of art that transform how we perceive these foundational figures in our community.
---
Want to see more of MISS CHELOVE's D.C. murals? Explore NMWA's self-guided mural tour, featuring a map and accompanying images, descriptions, and artist audio stops.