April 25, 2016
4/25/16
In Arabic, the word rawiya means "she who tells a story." Each artist in NMWA's summer exhibition She Who Tells a Story: Women Photographers from Iran and the Arab World offers a vision of the world she has witnessed.
Gohar Dashti
(b. 1980, Ahvaz, Iran; lives Tehran)
Gohar Dashti creates photographs that reference history and culture within contemporary society, particularly her homeland, Iran. She says, "Because my work is about social issues in Iran, I have to touch it, I have to feel it, if I want to do artwork."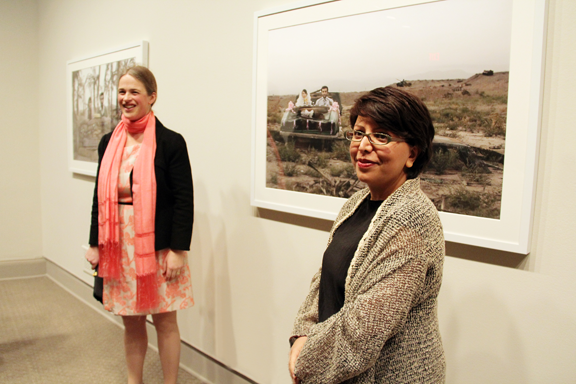 In Her Own Words
"This conflict [the eight-year Iran–Iraq War, 1980–88] has had a strong symbolic influence on the emotional life of my generation. Although we may be safe within the walls of our homes, the war continues to reach us through newspapers, television and the Internet. [Dashti's series 'Today's Life and War'] represents war and its legacy, the ways in which it permeates all aspects of contemporary society. I capture moments that reference the ongoing duality of life and war without precluding hope. In a fictionalized battlefield, I show a couple in a series of everyday activities: eating breakfast, watching television, and celebrating their wedding. Though they do not visibly express emotion, the man and woman embody the power of perseverance, determination, and survival."—Gohar Dashti, artist statement for "Today's Life and War"
What's On View?
Several of Dashti's photographs from the "Today's Life and War" series are on view in She Who Tells a Story. The two models in these images proceed through activities of daily life amid signs of war—barbed wire, tanks, and sandbags—in a desert landscape. In some images, such as one that shows them sitting in a burned-out car in wedding finery, they look directly at the camera with neutral or stricken expressions. In others, they look to each other, to their chores, or to TV, newspapers, or computers.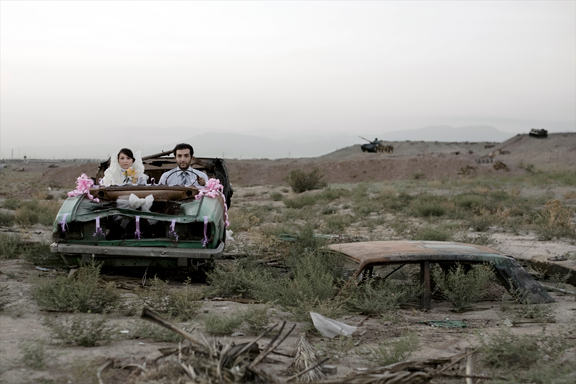 Dashti says that the site for the photographs is a government-owned area used by filmmakers creating movies about war. She was able to secure the location—a huge area—to take pictures, and she selected 10 of her staged photographs for the finished series. Through this series, Dashti hoped to evoke the experience of her generation, who had to proceed with their lives and youths in spite of the war around them.
Visit the museum and explore She Who Tells a Story, on view through July 31, 2016.