August 17, 2022
8/17/22
NMWA's renovation has afforded some surprising and gratifying opportunities for partnerships. During our temporary building closure, we have loaned key works from the museum's collection to two partner institutions in our area, the Baltimore
Museum of Art (BMA) and National Gallery of Art. Here, we spotlight selected works—ranging from the creations of early women silversmiths to an Impressionist painting—on loan to the BMA.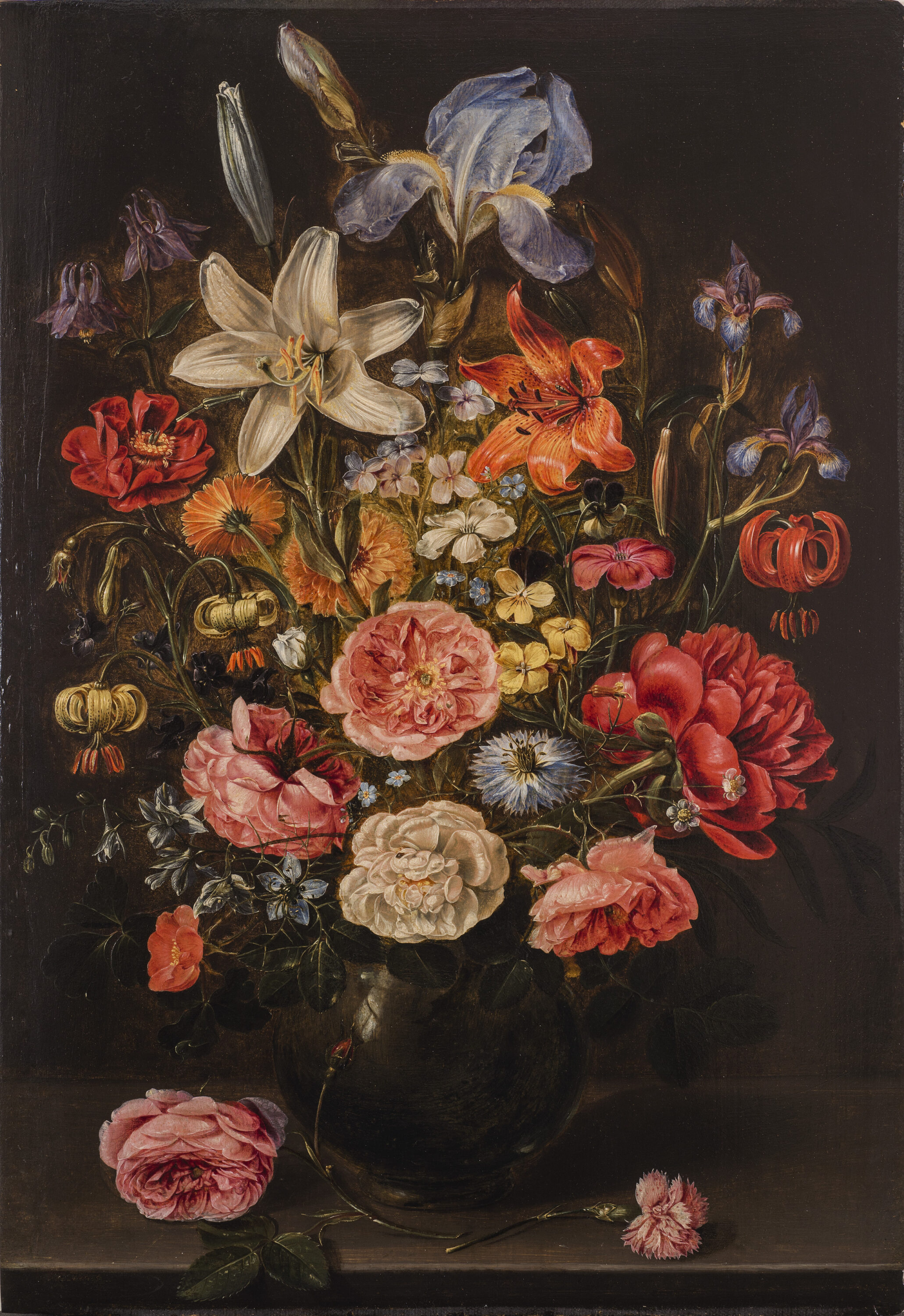 A Quick Tour of NMWA at the BMA
The NMWA collection works on view at the BMA span the seventeenth to the early twentieth centuries and are placed throughout the museum galleries. In the BMA's European galleries, the earliest work on loan is a floral still-life painting by Clara Peeters (ca. 1587–after 1636), dated to about 1610. Peeters, a Flemish artist working in Antwerp during the first quarter of the seventeenth century, was one of the earliest artists to focus specifically on still-life painting. Her era was marked by rising demand for small-scale paintings to decorate private homes as well as a growing interest in the scientific investigation of the natural world. These factors led Peeters and other artists to create highly detailed and naturalistic paintings of flowers.
Also on view in the European galleries are two pieces from NMWA's historic silver collection: a 1706 Queen Anne tankard by Alice Sheene (active 1700–15) and a George III child's rattle (1808) attributed to Mary Ann Croswell (active ca. 1805–30). Sheene is one of the earliest London silversmiths whose work survives; tankards like hers were often given to new brides and mothers in the seventeenth and eighteenth centuries. Croswell registered her silversmith mark in London about a century after Sheene. Like her predecessor, Croswell was also a widow at the time of registration, as this was the only status under which women were able to register their own marks.
On the opposite side of the BMA's Antioch Court from the European Galleries are the Modern Art galleries. In these galleries, The Cage (1885), by Berthe Morisot (1841–1895), hangs next to a painting by her friend and fellow Impressionist Pierre-Auguste Renoir. The Cage exemplifies the spirit of Impressionism with its quick, unblended brushstrokes and areas of exposed canvas that reject any pretense of illusionism.
Art in Residence
Although our doors are temporarily closed, through loans to both the Baltimore Museum of Art and the National Gallery of Art, NMWA is able to introduce a wider audience to the work of women artists from across centuries. For a full list of NMWA works on loan during the museum's renovation—by Rosa Bonheur, Louise Moillon, and many others—check our Collection on the Move page.
A warm thanks to both of these museums for sharing in our mission and graciously hosting art from our collection.