Our free curriculum, exhibition resource guides, and See for Yourself cards support arts learning in the classroom and highlight the artistic contributions of women past and present.
Art, Books, and Creativity (ABC) Curriculum
Art, Books, and Creativity (ABC) is the museum's signature arts integration curriculum. This model curriculum unites visual arts and language arts through the creation of artists' books, with a specific focus on the cultural contributions of women artists. ABC promotes visual literacy and critical thinking by developing students' skills in observation, reflection, and arts creation.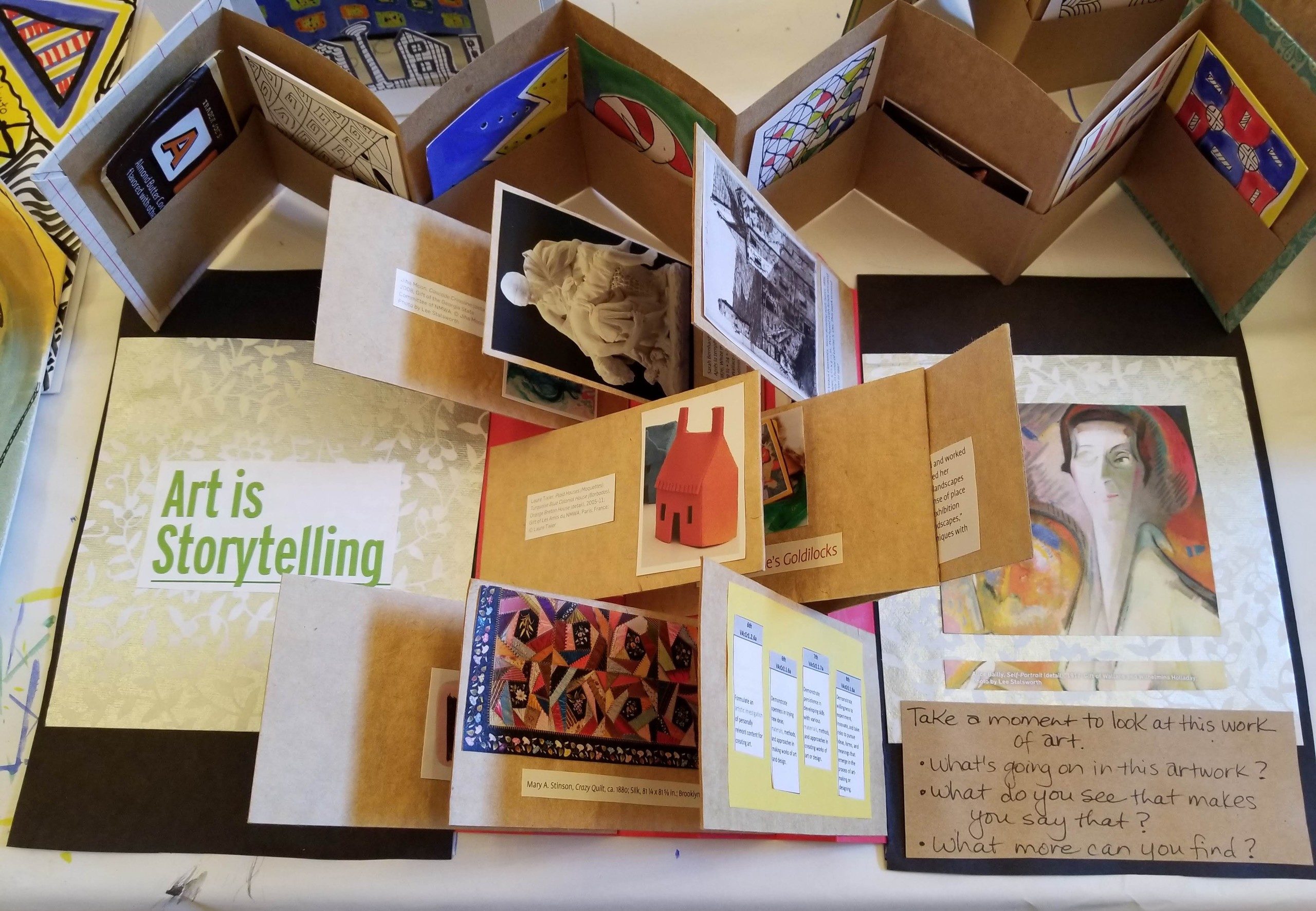 Exhibition and Collection Educator Guides
Our educator guides below are rich resources created to complement the museum's special exhibitions and collection.
Adaptable for Pre-K–12 classrooms, these guides include biographical information about artists and artworks, digital images, discussion questions, suggested classroom activities, and related standards of learning.
Arts and Humanities for Every Student
Educators at NMWA collaborate with the DC Arts and Humanities Education Collaborative (DC Collaborative) to offer Arts and Humanities for Every Student (AHFES) learning opportunities for 3rd through 12th grade students attending Washington, D.C., public and public charter schools.
Since 2015, AHFES experiences at NMWA have introduced nearly 3,000 Washington, D.C., students to NMWA's mission and artwork through Harvard Project Zero Thinking Routines.
NMWA's asynchronous and synchronous AHFES offerings encourage students to look closely at developmentally appropriate artworks, contribute respectfully to open-ended discussions, pose questions, share their opinions, make connections between visual art and their world, and create original works of art.
Asynchronous resources support teachers who wish to facilitate a museum-inspired experience on their own. They include virtual art galleries filled with a range of artworks relevant to each theme; close looking activities modeled after DCPS's "Close Study: Close Viewing" guides; and art making lessons and videos that encourage the exploration of techniques and satisfy final product assignments of each curriculum unit.
These asynchronous resources also act as pre- and post-lessons for teachers who schedule a synchronous session with NMWA's educators.
During synchronous sessions with the museum, students will practice "See, Think, Wonder," along with other Harvard Project Zero Thinking Routines.
Check out the asynchronous resources under AHFES Themes. To schedule a virtual synchronous session, visit the DC Collaborative's AHFES program catalogue.
AHFES Themes
NMWA offers five thematic AHFES experiences: Art & Advocacy, Everyday DC, Language of Layering, Make a Wish, and Powerful Beyond Measure, all of which are inspired by units in D.C. Public School's (DCPS) Framework for Art Learning.
Virtual Art Galleries
Story Time with Women in the Arts
Enjoy special NMWA@Home videos—created and curated by NMWA staff to help you stay entertained and safe while you #StayatHome. Story Time with Women in the Arts features books for kids authored or illustrated by women.
See For Yourself Cards
See for Yourself cards highlight selected works from our collection and special exhibitions. Use them at home or in the classroom to engage with artworks, discover fascinating facts, and reflect on your experience.